If you are running a small business that requires fast and reliable printing, then it's best to invest in a quality colour laser printer. From brochures to invoices and stationeries to reports, these printers can help you and your business go a long way. Today, the cost of colour printers is steadily going down, thus, why limit yourself to using conventional black-and-white copiers?

Buying colour printers can help you save the cost and inconvenience of hiring commercial printing services, not to mention, you can make your own designs and layout according to your preference. Here are some of the top choices of colour laser printers ideal for home offices and small businesses. Take note that some of these copiers are higher-priced but these tend to have added features like automatic duplexing, faster print speeds, and higher resolution, among others. Note further that the quoted PPM speeds are for comparison purposes only.
Xerox Phased 6510
This colour printer is an excellent choice if you are looking for that perfect high-performance copier with great features. It has fast print speeds, up to thirty pages a minute, and its monthly printing cycle of 50,000 makes it ideal for high-volume printing. This printing also features standard automatic duplexing. Its tray can hold 300 sheets per batch, although you have the option of adding another tray to accommodate up to 850 papers. The connectivity of this printer is excellent, and you can connect it to the Internet wired or wireless. If you are worried about security, this laser printer can help you safeguard your data, thanks to its added security features. The only drawback of this copier is its size with a dimension of 22.8" x 25" x 19.9". It can cost you some space, which may or may not be amenable to you.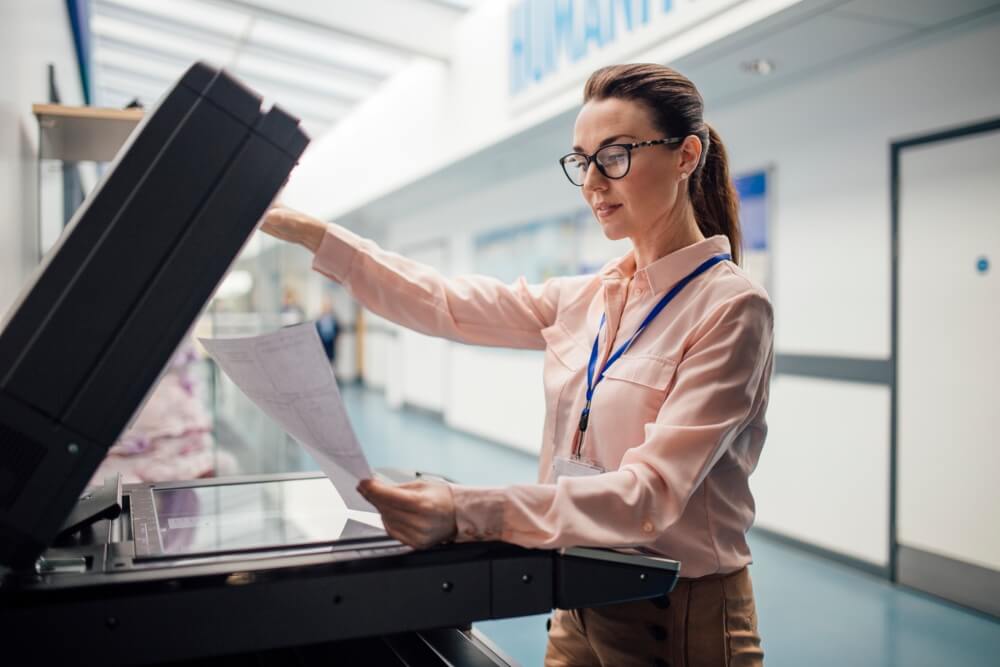 Brother HL 3230 Digital Color Printer
This is an excellent choice for moderate printing jobs, ideally for homes and small offices. It is very compact (18" x 16" x 9"), yet it boasts 2400×600 dpi at 25ppm printing. However, because of its being small, its tray can only hold 250 sheets. It has Ethernet and USB interface and supports printing coming from mobile devices via Google Cloud Print or AirPrint. Other features include High Capacity Replacement Toners and Toner Save Mode.
Samsung ProXpress M3820DW
The printer features automatic duplexing and a whole range of connectivity additional. It can print 40 pages per minute at high resolution and can hold 850 sheets in its tray. It also has built-in features like Easy Eco Driver and Easy Print to help small workgroups to collaborate efficiently. The Samsung M3820DW is also network-ready and is designed with built-in security features. You can easily print your photos from your tablets and phones, thanks to its wireless technology feature.
Brother Hl-L8360CDW Wireless Color Laser Printer
This is PC Magazine's Editor's Choice for 2017. It has mobile printing features via Brother iPrint, Google Cloud Print, or AirPrint. Wi-Fi Direct is also supported. The printer can run 32 ppm and has back-to-back printing. Connectivity is seamless thru Ethernet, USB, or WiFi interfaces.

HP Laserjet Pro M452dn Color PrinterThe model is ideal for workgroups of up to ten users and makes the best choice in the low price range. It is very simple to configure and has a printer speed of 28ppm. The paper tray can accommodate 250 sheets and its duty cycle is roughly 50,000 a month.
If you plan to get copiers for your office in Fort Lauderdale, you can opt to buy copiers or lease copiers in Lauderdale. We can give you the option to get the copier that you want. You can contact our local copier leasing services department in your location.
If your Location is around Fort Lauderdale, you may call us at (954) 379-8408, our personnel for copier leasing in Fort Lauderdale will assist you. If you are also looking for copier repair services in Fort Lauderdale, you may contact our copier repair personnel at the same number.
If you are looking for laser printers and copier Fort Lauderdale printing solutions, take your time to go over the many options available today. While every brand offers a distinct feature from the other, everything basically boils down to your personal choice.